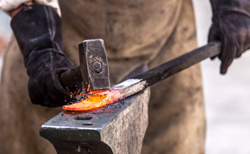 Stil-fer is an artistic workshop which has specialized in ironworking for over 30 years: it is a well-established business which represents a valid benchmark for clients who are projected towards the purchase of one of a kind pieces; these are characterized by a kind of taste and refinement which can only be reached through the skillful intervention of experienced professionals.

The offer consists of a wide range of products, always handcrafted and custom forged according to the single client's needs. Solutions bear a real hand-craft imprint in wrought iron with a classic or modern style, which is able to convey originality, perfection and prestige.

The key items such as gratings, balconies, front doors, railings and gates with CE certification and 89/106/CEE Declaration of Conformity, are at the client's disposal. Our clients are mainly composed of private buyers and people in charge of large firms, both willing to receive exclusive craft pieces, made with a meticulous attention to detail by the skill of various artists of the company.

Unlike other competitors, Stil-fer allows its clients to go to the workshop in order to verify the working practices and, upon request, proposes free inspections at the construction sites, so that the situation can be examined before starting the work.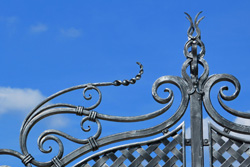 In addition to this, the clients can see the final result of any requested product in advance, thanks to detailed and extremely precise renderings. Stil-fer is linked to the ancient craft tradition but, at the same time, is also favorably disposed towards collaborations with other experts of the field. These collaborations are intended to allow a constant update of the whole operational team. In the course of time, our team has also started important working relationships with renowned foreign architects, coming from important cities such as Las Vegas and Los Angeles.

Uniqueness, elegance and refinement: these are the essential characteristics inside every single project, which have helped Stil-fer make itself known and appreciated also by the most demanding clients. Our clients are able to stimulate our collaborators' talent, pushing them to obtain better and better results, day by day.